The Fourth Pan-Commonwealth Forum on Open Learning (PCF4) addresses Achieving Development Goals through open and distance and technology-mediated learning. The forum is designed to enable delegates to explore the contribution open and distance learning (ODL) and technology-mediated learning makes to overcoming poverty and building a more stable and prosperous world. Contributions must engage with development. Our sub-themes – innovation, learning, collaboration and foundations – relate to ODL and technology-mediated learning and have been chosen as a means to interrogate the development potential of our practice.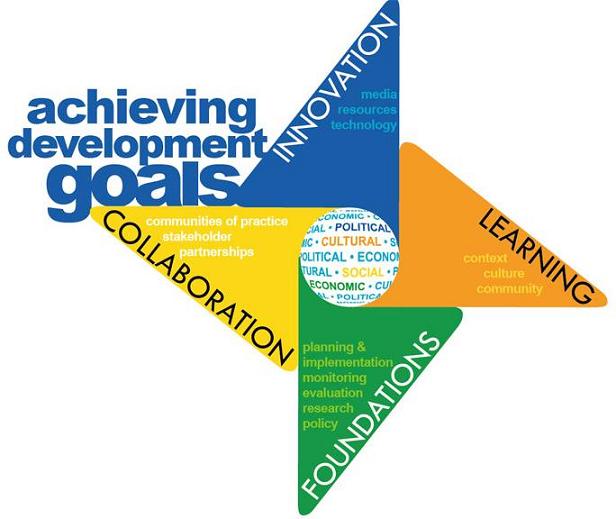 Some ideas of what might be included in the sub-themes and on which you might like to focus your paper submissions are outlined below. This is not an exhaustive list – these are suggestions to guide your thinking and to show how we will be organizing the conference sessions.
Innovation – We are particularly interested in how ODL is changing, especially in light of developing technologies. Contributions might address e- and m-learning, open learning resources, or the issues that arise as a consequence of new developments, e.g., copyright; intellectual property; globalization, transnational and borderless education; and quality assurance. For more details of this sub-theme, please see the text Innovation in Education and Development by Olabisi Kuboni, Kinshuk, Helen Lentell, Wayne Mackintosh, Lorraine Victor, Renee Webb and Paul West.
Learning – Contributions in this theme might address sustainable learning; learning as the processes of development; practice that leads to successful learning; the relevance of the context within which learning occurs; issues of gender, culture and language relating to development; new models of learning; and new ways of supporting learning – e.g., that arise as a consequence of new technologies (connective learning and expanded learning). For more details of this sub-theme, please see the text Learning: Meaningful Learning in Education and Development by Som Naidu.
Collaboration – We would like to explore the many different ways we work to achieve maximum benefit. This could be partnerships among educational providers, civil society and private industry. Contributions might also look at collaborative and participatory methods, e.g., preparing courses of study or collaborative tutoring and learning. They might also address communities of practice, professional associations, learning communities or consortia and networks. For more details of this sub-theme, please see the text Collaboration in Education and Development by Krishna Alluri and K. Balasubramanian.
Foundations – This sub-theme addresses those aspects of what we do that are grounded in good practice and lead to development impact. So here we will be looking among other things for contributions that address ODL policy and management, practice based research, monitoring and evaluation, tutoring and learner support, professional development and access and equity. For more details of this sub-theme, please see the text Foundations: Open and Distance Learning – Lessons and Issues by Jocelyn Calvert.
Because the focus of the Forum is on development, the organizers welcome contributions from a variety of sectors: health, agriculture, livelihoods, environment, governance, education, non-formal education and indeed any area where ODL is making a contribution.

top
The Format of PCF4
The organizers of PCF4 are trying hard to ensure that the Forum maximizes opportunities for discussion and dialogue. Apart from key plenary presentations, there will be no formal delivery of papers. Rather, there will be three types of presentations:
Panel discussions. These will be chaired sessions around previously submitted and accepted papers which share a common theme, issue and/or area of ODL application. These panel discussions will last one hour and 15 minutes and will be led by a well-briefed chair whose task will be to encourage and, if necessary, stimulate discussion. All papers presented at these sessions will be collected and made available on the conference CD.
Workshops. These sessions can be either single sessions (one hour and 15 minutes) or a double session (two hours and 30 minutes). Workshops are sessions where participants will be actively involved in developing ideas or solving problems.
Poster sessions. These sessions will be more informal but will allow for the showcasing of practice and promoting ways of doing things.

top
Submitting Your Presentation
To make a presentation under any of these headings you must first submit an abstract. Please identify whether you are submitting a paper for a panel discussion, leading a workshop or offering a poster presentation. The abstract must be no longer than 200 words for a paper and 400 words for a workshop. All submissions will be reviewed and the abstracts of those accepted will be published in a booklet of abstracts which participants will receive on registration.
Please note:
All abstracts must be received by March 31, 2006.
Notification of acceptance of abstract will be by April 30, 2006.
All papers must be received by July 31, 2006 (but earlier would be better).
To submit your presentation, please follow the instructions given in the "Call for Papers".
PCF4 Key Dates:
| | |
| --- | --- |
| March 31, 2006: | Abstracts and presentation proposals due; |
| April 30, 2006: | Notification of acceptance of abstracts/proposals; |
| July 31, 2006: | Papers due; |
| August 15, 2006: | Notification of acceptance of papers; |
| August 31, 2006: | PCF4 "early-bird" registration rate ends; |
| October 16, 2006 | PCF4 registration ends; |
| October 30, 2006: | PCF4 begins; |
| November 3, 2006: | PCF4 ends; |

top